Metal Fasteners has always endeavored to innovative and help its clients to perform better, by meeting their demand for quality, service and competitiveness. Metal Fasteners Co. is one of the trusted names involved in manufacturing variety of standard and special-grade fasteners. MFC manufactures a broad range of extremely reliable, precise and accurate Stud Bolts, Anchor Bolts, U Bolts, Threaded Bars in Steel and Steel Alloys of different sizes from high quality Graded raw material. At the same time we can facilitate customers by our ready stock, for hex nuts, heavy hex nuts, jam nuts and washers in black, electro galv., hot dip galv., stainless steel finish. Metal Fasteners Co. is considered as one of the few KSA leading manufacturers of special bolting for critical applications. Our company benefits from the dedication and combined strength of Technical & Commercial Staff. Today, we wish to be considered among manufacturers of stud-bolts and special bolting as a reference, not only for precise and accurate manufacturing reliability but also for service performance. We can proudly say that our fasteners are manufactured using 'state-of-the-art' technology. Our qualified technical team ensures that every product is tested for it's quality using a fully controlled quality management system maintaining traceability of the products from their initial source of supply to final dispatch to the customer. Material test certificates are provided with every product to ensure compliance with required international standards.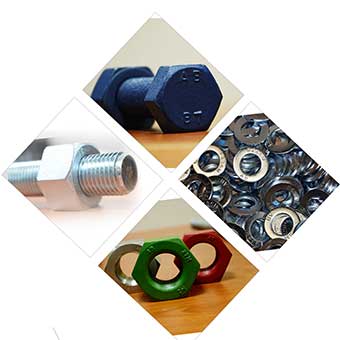 Our Mission
---
To provide components of impeccable standards by controlling all aspects of procurement, metallurgy, production, quality and supply.
---
To consistently offer quality service in all aspects to ensure that our client requirements are met from materials available from our stocks.
---
To produce components meeting and exceeding the very highest specifications for our clients who demand perfection.
---
We produce components meeting the very highest specification for customers who demand stringent and consistent standard. Among our many clients are Oil and Petrochemical industries world wide-Metal Fastener has become the preferred supplier to these and the other industry sectors.
---